The Mt. Hood Passenger Car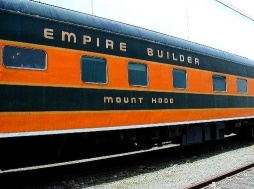 Mt. Hood #600: The Chapters favorite car. Built by Pullman Standard Manufacturing Co. of Chicago as a sleeper/lounge for the SP&S Empire Builder service, lot 6829 plan 4163; ordered 9/1946, delivered 2/1950 and re-furbished in 1968, the last car overhauled by Pullman before leaving the sleeping car business. Sister car Mt. St. Helens (SP&S 601) exists and is being restored by owner Michael Gelhaus in Spokane.
Click on the image to see the photo gallery
The Mt. Hood logged almost 5.3 million miles between Spokane and Portland. Six single-person roomettes and three large 2-person compartments two of them can be opened to provide a 4-person room with a small kitchen (refrigerator & hot water don't work) and a neat radio in the lounge, 170,000 lbs, 85 long, 14 high, 11 wide, seats 22. Shower installed 1984, stove 1985. Cast pedestal trucks, equipped with single equalizers and coil spring suspension, lightweight carbon steel smoothside construction. New carpet installed except in the roomettes and furniture cleaned Spring 2001. Donated to the Chapter by the BN RR in 1972. Used between Spokane & Portland on BN passenger trains through May 1, 1971, donation delayed as Amtrak needed the equipment between Seattle & Chicago until early 1972. Painted in 1981 into Southern Pacific color scheme to accompany SP 4449 to the opening of the California State Railroad Museum and 1984 7,477 mile 51-day excursion to Louisiana Worlds Fair in New Orleans. Painted to correct SP&S and current livery in 1985 for AARPCO/Union Station neon sign celebration.